---
Working with the community to build a Greater College Park.
---
A public / private research hub, dynamic academic spaces, and a vibrant community – this is Greater College Park.
---
---
---
---
Terrapin Development Company (TDC) is a joint venture real estate and economic development entity created by the University of Maryland, College Park and the University of Maryland College Park Foundation. TDC's mission is to create long term value for its members while transforming Greater College Park into a vibrant, diverse and walkable community that attracts the best faculty, staff and students, and galvanizes a culture of research and entrepreneurship.
TDC's primary responsibilities are real estate strategy, acquisition, development, leasing, and management with a particular focus on "placemaking," a people-centered approach to the planning, design and management of public spaces, local economic vitality, and creating the housing options, stores, restaurants and green spaces that will enhance the University's recruitment and retention of the world's best faculty, staff and students.
---
Through transformative real estate activity that holistically enhances the vision of the Greater College Park initiative, TDC strives to create an equitable, vibrant city built for the community, UMD faculty & students, and a growing entrepreneurial and research hub.
---
Greater College Park Initiative
---
Together, we are building a community here.
---
One of the key tasks of Terrapin Development Company is to carry out the vision of the Greater College Park initiative. The Greater College Park initiative was launched by University of Maryland President Wallace Loh as an effort to turn College Park into one of the nation's top college towns.
Utilizing the three pronged approach of building dynamic academic spaces, promoting a vibrant downtown community full of amenities and creating a public-private hub for research and innovation, Greater College Park is a place families and individuals of all stages in life can live, work and play. Terrapin Development Company works closely with the University of Maryland and the local community to make this vision a reality.
---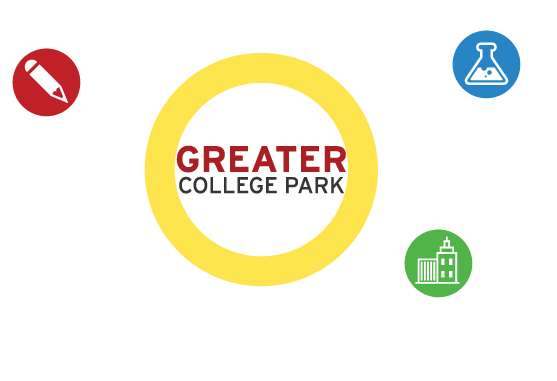 ---
Unprecedented Redevelopment
---
"Together, we are building a community here," says former UMD President Wallace Loh.
"If we are to recruit and retain the world's best faculty and staff, we need housing options, stores and restaurants, green spaces. And we need to intrinsically tie together our academics and research with our surrounding communities."
---
---
Innovation happens in UMD's Discovery District Research Park every day. Visit the Innovation Gateway site to get up to the minute information about available resources, success stories and how you and your venture can get involved with the Discovery District.
---